Direct Mail Design
Direct mail is a powerful tool that can significantly boost your business when executed correctly. Despite the rise of digital marketing, many organizations are revisiting the potential of the direct mail format to bolster their success. We will explore the essential elements of effective direct mail design and provide valuable insights for businesses, government entities, non-profit organizations, and other large organizations.
The Power of Direct Mail Design in Boosting Your Business
Direct mail plays a crucial role in capturing your target audience's attention and generating leads.
An effective direct mail marketing message can help you to differentiate your business from competitors and get your message across efficiently.
Don't Just Take Our Word For It…
See what others are saying about their experience!
Capturing Attention Through Creative Design
A visually appealing direct mail piece is essential for grabbing the recipient's attention amidst an increasingly cluttered mailbox environment. To create eye-catching designs that resonate with your audience:
Incorporate bold colors and high-quality relevant images that align with your brand identity;

Use typography strategically to improve comprehension, emphasize key messages, and create a clear hierarchy of information;

Experiment with unique formats, such as die-cut shapes or dimensional mailers that encourage interaction and leave a lasting impression.
The Role of Copywriting in Direct Mail Success
In addition to compelling visuals, the copy used in your direct mail piece plays an essential role in engaging recipients and persuading them to take action. To craft persuasive copy:
Focus on the benefits your product or service offers rather than simply listing features;

Create urgency by incorporating limited-time offers or exclusive promotions;

Include strong calls-to-action (CTAs) that clearly communicate what you want the recipient to do next.
The power of direct mail in boosting your business cannot be overstated, and with the right approach, it can help you reach a wider audience and increase customer engagement. By understanding the crucial elements of effective direct mail design, businesses can maximize their return on investment from their marketing campaigns.
Personalization: The Secret Sauce of Direct Mail
One of the most basic principles for captivating and connecting with intended recipients is individualizing your print message. By incorporating personalized content into your direct mail piece, you can significantly improve engagement rates and drive higher conversions.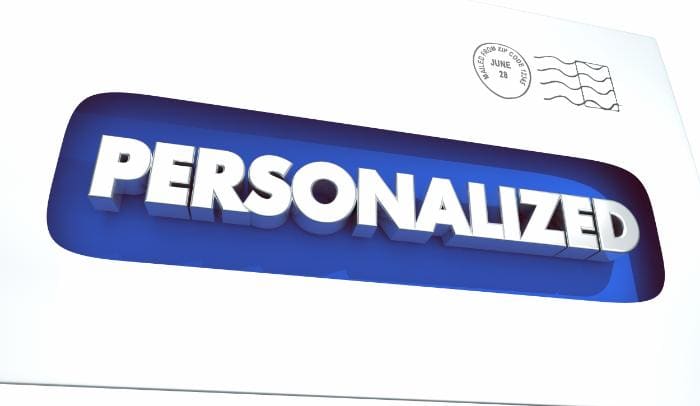 The Importance of Personalized Content
Studies have shown that personalized marketing messages deliver up to six times higher transaction rates compared to generic messages. This highlights the importance of tailoring your direct mail pieces according to the preferences and interests of each recipient. By addressing each recipient individually, direct mail pieces can create a personal connection that encourages engagement and action.
Tips for Effective Personalization in Direct Mail
Crucial Elements of Effective Direct Mail Design
To ensure your mail piece stands out, you should pay close attention to various essential components of design. Let's look at some key aspects of direct mail that you should consider when planning your next campaign.
Taking these crucial elements into account when planning and executing your next direct mail campaign will significantly improve its overall effectiveness – ultimately leading to increased engagement rates, higher conversion numbers, and boosted revenue for your business.
Outsourcing Your Direct Mail Needs: The Benefits
To remain competitive, it is essential to allocate resources efficiently and concentrate on your organization's core competencies. Outsourcing your direct mail needs can provide numerous benefits that will help you save time, money, and effort while delivering high-quality results
Get A Free Quote Today
Start your path to business prosperity with our exceptional outsourced services – ask for a complimentary estimate today! Our experts are ready to help you streamline your communication and document production needs, enabling you to focus on what's truly important – growing your business. To get a complimentary estimate for our services, just reach out to us and share some details about your needs.